July 20, 2019
Purple vs Nolah
In life sometimes you get to choose between two great things. When it comes to your sleep, you don't want to settle for anything less. This is the choice between the Purple vs Nolah mattresses, great and great. Both 10" memory foams are the change in your sleep that you need to go from good to great. Continue reading the Purple vs Nolah comparison for a detailed review of each bed to make your decision easier.
Purple Mattress Overview:
The Purple mattress has exploded. More people recognize the Purple as a mattress brand than they do the color. The 10" memory foam mattress is made of 3 layers, but the bed is most known for its top 2".  The unique polymer grid is where the mattress gets its name. Combine the unique polymer grid with 2 support layers and the Purple is everything you need.  You'll be amazed at how well it relieves pressure while still giving you the maximum comfort and support of a true medium feel.
If that's not enough, you'll also be amazed at the competitive price including free delivery and returns. This includes a 100-night sleep trial and 10-year warranty, so you can be sure the Purple is the right fit for you, but trust us, it will be.
Want to jump right to the full review? Find the Purple Mattres Review or shop at Purple.com!
Latest Purple Mattress Coupon HERE!
Nolah Mattress Overview:
The Nolah is the Purple's 10" competitor. Also giving you 3 layers and also a true medium feel, it's innovative and unique materials are ideal for any sleeper. The Nolah gives you the perfect amount of balance and hug, bounce and support, spinal alignment and proper ergonomics, in any sleeping position.
Nolah is definitely the perfect competitor for the Purple mattress because it also uses innovative materials to give you the most comfort. The Nolah uses Cooling Nolah foam and Avena Foam, giving you cooling properties pressure relief, and adaptability, all at an amazing price! The price also includes free shipping, 120-night sleep trial, and 15-year warranty, all delivered right to your doorstep.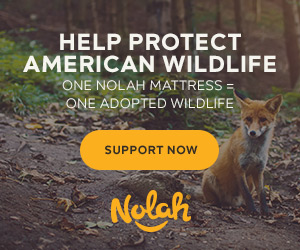 Finally, as if you needed more reasons to love the Nolah, by purchasing a Nolah, you'll also be giving back to the community. Nolah has an advocacy for wildlife program in which they have partnered with Defenders of Wildlife. For each mattress purchase, a portion of the proceeds is donated to help save or adopt an animal on your behalf. You will even receive an adoption letter or information about the animal. We love that the Nolah is unique in more ways than just one and you will too!
Want to jump right to the full review? Find the Nolah Original review HERE or shop NolahMattress.com!
Purple vs Nolah – Delivery & Unboxing:
The best part about the Purple mattress delivery? The free shipping right to your doorstep. The worst part? Waiting 3-4 weeks due to high demand. If you're life us, when you want great sleep, you want it now. After it arrives, however, the delivery is easy. The Purple mattress will arrive in a heavy-duty purple plastic bag at about 110 lbs. for a queen. You'll definitely want an extra set of hands to help you take it where it needs to go. Once there, simply remove the bag and car fully cut away the plastic.
The Nolah will arrive in a fairly similar process, but in less time. The mattress will arrive in a compact, 75 lb. box, but we still recommended some help to maneuver it. Once you get it where it needs to be, simply remove it from the box, cut away the plastic, and watch it come to life. We recommend setting your Nolah mattress on its base before letting it unroll. The Nolah works well on any flat even surface such as a box spring with or without a frame, an adjustable bed, and even a platform or slatted bed. Just choose whatever height works best for you to make sure it is aesthetically pleasing and you are good to go.
Ready for one of these great all foam beds? Learn more get your Nolah Original Mattress and save an animal at Nolahmattress.com. Or get your uniquely made  Purple mattress NOW at Purple.com.
Purple vs Nolah – Off Gassing:
While the Purple unrolls, you may notice some off-gassing. This is normal for a boxed mattress, but you may notice a slightly stronger smell, most likely from the polymer. There is nothing harmful or noxious about the smell, but opening a window may be a good idea. Since the first 60-70% of the mattress will expand right away, but the remaining 30-40% will take 24-48 hours, this is the perfect amount of time to let your mattress breathe. After this time it will be fully firmed up, odor-free and ready for your great night's sleep.
Once again off-gassing is completely normal with the Nolah too. With a US-made mattress like the Nolah, you have absolutely nothing to worry about; the fumes will be minimal and there won't be any noxious odors. If you're sensitive to smells, we recommend letting the mattress breath up to 12 hours, which is the perfect amount of time to let it firm up and fully expand. Seems pretty effortless right?
Purple Mattress Materials:
The famous Purple mattress is not surprisingly, purple, beneath its breathable cover. It's 3 layers give you 10" of comfort from top to bottom. The first layer is the special, one-of-a- kind, 2", hyper-polymer grid. This top layer is meant for two purposes. First, it was designed for comfort, alleviating pressure points and giving you the perfect balance between support and sink. Second, it was created for temperature regulation to create an all foam bed that doesn't sleep too warm.
The next layer is 3.5" of transitional foam. This layer is critical for comfort. It works with the top layer to give you a deep comfort, while also distributing weight evenly. Lastly, the 4" base layer gives the foundation and support that the Purple needs. It compliments the top layers while also giving the mattress durability and longevity
The mattress is completely wrapped up in a breathable, polyester-blend cover. This cover is made of 69% polyester, 27% viscose, and 4% Lycra, which basically means it is super soft. The zipper feature makes it easier to take on and off and remove to wipe clean.
Ready to try out the infamous purple grid for yourself? Get the best pricing at Purple.com. 
Nolah Mattress Materials:
The 10" of Nolah Mattress is brought to you in 3 layers. The first layer is 2" of Cooling Nolah foam. As the first layer that touches your body, it works to keep your temperature cool and contour to your body better. The next layer is a 1" Avena Foam layer. Its unique latex-like material is stronger and more durable than regular latex. This layer gives you the perfect amount of bounce you need.
Finally, the 7" high-density base foam is exactly what you need. It supports the top two layers while giving the mattress durability for years to come. All of these layers are wrapped up in a natural viscose layer that is ultra-soft and luxurious. The Nolah is the only mattress that has a 360-degree wrapped cover. Sound like a dream come true? It is.
Interested in one of the best mattresses for side sleepers? Shop and get the latest pricing at NolahMattress.com.
Purple Mattress Comfort:
The Purple mattress is the most unique on the market, which makes its comfort a unique experience as well. It uses poly foams plus pure polymer as well, which other mattresses don't. The unique top layer is meant to be responsive with a focus on its open grid structure. If you give it a try you'll get good pressure relief with enough response and hug.
The Purple has a "one size fits all" because it is only available in one firmness option, medium; but your comfort experience will be anything besides one size fits all. For back sleepers, this mattress is guaranteed to provide excellent lumbar support. It will also be highly pressure relieving if your body weight is evenly distributed, and contour to your shoulders and neck. For side sleepers, the Purple offers plenty of give for your shoulders and hip to sink into, while still being supportive.
For primarily stomach sleepers, the Purple may feel less supportive. It's open grid structure may be a little too open and leave your back bowing a bit. The same goes for heavier persons; you may feel that this mattress is too weak and thin, especially over time. The polymer grid of the Purple mattress is worth the try because although it is a new experience, you'll be surprised at the genius in its design meant for your comfort.
Nolah Mattress Comfort:
There is less question with the Nolah than the Purple mattress when it comes to comfort. It takes the best of memory foam and latex to create the top cooling layer. This layer brings you comfort in cooling alone,  but also relieves pressure 4x better too. You get the responsiveness and bounce you need from the Avena Foam layer. These two layers work together harmoniously to create a universal mattress that is ideal and comfortable for everyone. This is also because the mattress has a true medium feel and. 5.5 on the firmness scale.
The Nolah works with back sleepers and has more support than the Purple for the occasional stomach sleeper. It is perfect for side sleepers, being just soft enough for your shoulder and hip to sink in, while still providing that deep support for proper alignment. Overall, the Nolah is designed for maximum contour and pressure relief, especially for back and side sleepers. If you are a heavier person, the Nolah will support you, but have more of a medium-soft feel.
Purple vs Nolah – Motion Transfer:
If you're experiencing too much motion transfer with your current mattress, it's time to get a new one. And the Purple and Nolah mattresses are great choices when it comes to motion transfer. The Purple mattress proves that memory foam isn't the only way to go to limit motion transfer. Although it is not as dense as memory foam and does not deaden the motion immediately, the open-grid structure prevents vibrations from traveling. The grid is also going to contour and collapse around your body, which eliminates motion transfer for you and your partner. Finally a great night's sleep you can both have
Motion transfer for the Nolah is equally as successful. It does use a layer of Avena Foam which is slightly more responsive, but since it is beneath the top layer, it is nothing to worry about. The Nolah's top layer is key for softening vibrations and the base layer is key for deadening movement. Put the two layers together and you have a perfect mattress for couples or light sleepers.
Purple vs Nolah – Sleeping Cool:
Looking for a mattress that sleeps cool? Sometimes this is easier said than done. Especially when comparing most all foam mattresses. However, when it comes to the Nolah and Purple mattress you may be in luck.
The Nolah mattress uses innovative new generation foams. Focusing on not only having adequate comfort but also a cool mattress. By using foams that are better at dissipating heat and offering better airflow you will have a cool bed. The top layer of Nolah Air Foam is not temperature sensitive, like memory foam is. Meaning that your body heat is less likely to be retained while sleeping.
This paired with the Avena foam under it makes for a great combination. The Avena foam is a latex alternative. So you have better bounce and less sink, meaning you don't feel stuck in the bed. And when you add a solid base foam that keeps you more on top, you also will notice less heat retention. All together giving you the positives of an all foam bed, with out the heat retaining drawbacks.
Even thought the Nolah does a good job of sleeping cool, it is hard to beat the Purple in this category. When it comes to the Purple bed there are two things it prides itself on. Relieving pressure and sleeping cool. By using the smart comfort grid for the top layer you get plenty of airflow and almost zero heat retention. So even though the base of this mattress is foam, the likely hood of your body heat every making it that far is very slim. Making this an all foam mattress that surprisingly sleeps very cool.
Latest Purple Mattress Coupon HERE!
Purple vs Nolah – Edge Support:
Although edge support is often forgotten when shopping for a mattress, between the Purple and the Nolah, you won't want to forget. This is because with edge support, the Nolah clearly takes the gold and the Purple is less than promising. Especially due to the open grid structure, the Purple mattress is nothing to brag about when it comes to edge support. While you are able to use most of the mattress' sleeping surface for sleep, if you get within a few inches of the edge, you will definitely get that rolling off feeling.
Unfortunately, the Purple does lack the consistency and density of other foams. If you're considering sitting on the edge just to tie your shoe, no way?! The Purple mattress may not even support you there. It's definitely not our mattress for sitters.
You will be much more satisfied with the Nolah mattress which has excellent edge support. With this mattress you can easily use the entire surface edge to edge for sleeping and you will get a consistent, supported feel. This is especially thanks to the dense base foam. This layer gives a solid foundation to the mattress overall, and especially the edges. Like other foam mattresses, edge support will work incredibly for sleeping, but less for sitting. Still, you'll feel supported sitting on the Nolah than Purple.
Purple vs Nolah – Value:
With the hefty sticker prices that some mattresses can have, you want to make sure you're getting the most for your dollar. Quality plus cost goes to the Nolah. It is priced at $1019 for a queen plus a longer sleep trial and warranty. They are currently offering a $125 Nolah mattress coupon, making your savings even greater. With the Nolah, you're getting higher quality materials, better edge support, and just more benefits overall for the price. Make sure to follow the link below to get the best Nolah coupon to save on both of their mattresses.
The Purple is priced at $999 for a Queen with a shorter trial period and warranty. If you are looking for a unique feeling mattress that delivers on pressure relief and sleeping cool, the Purple doesn't disappoint. However, if you those things and better edge support and minimal motion transfer the Nolah will check all the boxes. Either way, if you decide the Purple is for you make sure you follow the link below for the best Purple mattress coupons and discounts available.
Latest Purple Mattress Coupon HERE!
Purple vs Nolah – Trial Period & Warranty:
It's simple. The Purple offers 100 nights sleeping trial, Nolah 120. The Purple offers 10-year warranty, Nolah 15. Although both companies stand behind their products, the Nolah offers a better warranty and trial period. With both mattresses, you will be offered free and easy returns, but we're sure you won't be returning one of them. 
Purple vs Nolah – Summary:
Sometimes you really have to get down to the nitty-gritty to compare great and great, to figure out that one is less. In this case, the Purple is not as impressive as the Nolah. The unique polymer grid on the Purple is one of a kind, but it cannot be the only selling point. The Nolah is the safer choice when it comes to your comfort because there are no surprises with the memory foam, you get more sleeping surface to use, and it's less expensive. The Purple may be unique, but it is not the only solution to a great night's sleep.
Learn More:
Still looking for more information outside of our Purple vs Nolah comparison? Learn more about each of these mattresses in our in individual reviews. The Nolah Original Mattress Review and Purple Mattress Review feature videos, images and our experience sleeping on each.
Also, looking for more comparisons? Check out our Mattress Comparison Tool that allows you to pick up to 4 mattresses to see side by side. This is a great way to help you quickly see the differences and compare and contrast. As well as find our most recent coupons too. Otherwise, make sure to check out all our in-depth comparison reviews on our Mattress Comparison page.
And lastly, not finding the answers you're looking for? That is why we are here! Feel free to contact us and we will help you answer any questions, make suggestions or help you in your mattress journey. Our Sleep Guide is here to help you!