May 23, 2018
Nolah Original vs Nolah Signature Mattresses
Any company that has a great product over time usually introduces other great products too. This is no different with mattresses. With the number of bed-in-a-box companies popping up the ones that is able to do well should create more products. In our Nolah Original vs Nolah Signature mattress review, we are looking at just that. An original product that was a huge success that has now introduced direct competition with itself. We will look at several features of both of these mattresses to see which Nolah bed is a better fit for you.
Nolah Original 10″ Mattress Overview:
The Nolah original is a 10″ all foam mattress that has been known by side sleeper enthusiasts. This mattress is the ideal feel of softness and support. And creates the perfect comfort for sleeping on your side. Its three layers make up two comfort layers paired with a base foam. This combination is contouring and pressure relieving but also responsive. It also uses new generation foams that are better at dissipating heat and reducing movement.
Get the latest pricing and save $125 on your Nolah Original at Nolahmatress.com.
$125-$300 Nolah Mattress Coupons
Nolah Signature 12″ Mattress Overview:
The Nolah Signature is a 12″ all foam mattress that is two-sided. This bed not only works ideally for side sleepers but also has a firmer option. Ideal for the dominant stomach sleeper and back sleepers too. This mattress uses 4 layers of foam. Including a solid core foam sandwiched with comfort layers. One side using the Cooling Nolah Airfoam paired with a deep comfort layer. And the firmer side just using the Nolah Airfoam. Making for an upgraded bed with all the same great features. As well as a nice soft and breathable organic cotton cover.
Get the latest pricing and save $300 on your Nolah Signature at Nolahmatress.com.
$125-$300 Nolah Mattress Coupons
Nolah Original 10″ Mattress Materials:
The Original Nolah mattress is a one sided, three layer, 10″ universal feeling mattress. This bed has been known as one of the best mattresses for side sleeping due to its balanced materials and perfect medium feel. The foams used in this mattress feature new generation foams that hold less heat than memory foam, relieve pressure up to 4x better and are as durable as latex.
The top 2″ consist of Cooling Nolah AirFoam over 1″ of Avena foam. This combination of comfort provides good pressure relief and just enough bounce. As well as enough sink for your shoulders and hips while on your side. These comfort layers sit over a 7″ High Density Base foam that provides the foundation and bulk of the support. This solid layer is meant for longevity and durability as well as an even, dense surface for the comfort layers to optimally rest on.
Nolah Signature 12″ Mattress Materials:
The update Nolah Signature mattress is not only 2 inches thicker than the original, it is also two-sided. Each side features the same original Cooling Nolah AirFoam, however, one side is firmer while the other soft. Making it easy to find the right fit for you.
The softer side will be a bit softer than the original Nolah due to a 1/2″ increase in the Cooling Nolah AirFoam as well as a 1/2″ increase in the secondary foam too. Making for a total of 4″ of comfort foams on the soft side. The firmer side will be quite a bit firmer than the original with only 1″ of the Cooling Nolah AirFoam directly over the core or base foam. This creates two firmness levels that are at different ends of the spectrum for comfort.
Even the core has increased in thickness giving you 8″ of High Density Core (Base) Foam. Again providing great support and durability for the mattress. With its dense and solid build that will give you many years of great sleep. This mattress has also added an organic cotton cover for a soft and breathable natural cover.
Nolah Original vs Nolah Signature – Comfort:
Briefly, from reading over the materials, you can quickly see that these two mattresses will offer different comfort options. The Original offers one universal feel that will be a more medium to borderline medium firm feel. While the Signature offers two options in one mattress. One side a medium-soft feel and the other side a firm feel.
Surprisingly the Nolah Original 10″ mattress may still appeal to the vast majority of sleepers. Its more ideal feel works great for almost all sleeping positions as well as sizes and shapes. It is still considered one of the favorite all-foam beds available for prominent side sleepers too. And let's not forget that the price is still more reasonable too.
$125-$300 Nolah Mattress Coupons
The Nolah Signature 12″ might be a great option for anyone who is a side sleeper and looking for an even softer feel. Or a stomach sleeper who likes nice, dense support. Personally, I sometimes switch between side and stomach sleeping and having the option to see which works better at the time is nice. It is also nice to know that if you would prefer the other side that all you have to do is flip it over. This bed also has its advantages for comfort, but they do come with an added price.
$125-$300 Nolah Mattress Coupons
Cooling Nolah AirFoam:
As you can see in the Nolah Original vs Nolah Signature comparison that both mattresses use the patented Cooling Nolah AirFoam. This foam has been designed to specifically have better benefits and performance than both memory foam and latex. It is considered a new generation foam that has ample technology and testing behind it.
The benefits of this foam include less heat retention than memory foam. Making one of the least appealing aspects of memory foam virtually disappear. It also is even better at relieving pressure than memory foam making it great at evenly distributing weight and providing ideal comfort and response. It also is said to be more durable than latex making it last a long time. This creates a mattress that will last even after years of wear and tear.
All of these sleeping benefits are amplified in both of these mattresses because of the dominate use of this technology driven foam. Giving you great comfort, performance and a sleeping surface that will surely delight. Proving that new generation Nolah Cooling AirFoam is years ahead of standard memory foams.
Is the Cooling Nolah AirFoam superior? Maybe so. Try your Nolah Mattress at NolahMattress.com.
Nolah Original vs Nolah Signature – Motion Transfer:
One thing that both of these beds will provide is good motion isolation. The original Nolah as well as the Signature Nolah are both all foam mattresses. This creates a surface that easily abosorbs excesss vibrations before letting them travel through the bed.
A few things to note though is the fact that the original Nolah features Avena foam under the top layer of Cooling Nolah AirFoam. This foam does have a bit more response to it and provides a more latex like feel. This will not add any vibrations or significant motion, but in direct comparison to the softer side of the Nolah Signature could be a touch more springy.
That being said, the Nolah signature will also do better at absorbing motion on the softer side than the firmer side. The several inches of softer comfort foams will easily absorb excess motion. While the firmer side may provide a bit more resilience.
Again, the fact that you really need to scrutinize the details of the foams to make any distinguishable difference proves that either of the Nolah mattresses will do a great job in the motion transfer department. Giving you and anyone you share the mattress with minimal disturbance, even for the lightest of sleepers.
Nolah Original vs Nolah Signature – Sleeping Cool:
Sleeping cool in a mattress that features memory foam has been problematic in the past. However, when you incorporate a new generation memory foam along with other materials that help you sleep temperature neutral it may no longer be a problem. The Nolah original and the Nolah signature utilize the patented Nolah foam. This alone has made a difference in how an all foam mattress reacts to body heat. By eliminating heat trapping chemicals and creating an open-celled breathable foam you get much better surface temperature regulation.
The Nolah original is paired with a secondary layer of Avena foam too. Giving the mattress another all foam layer that is less likely to warm with body heat. As well as provide just enough bounce to keep you from feeling stuck. These foams provide a good amount of comfort with support. And in addition to the firm base you should never sink in to a point of being cocooned by foams that will warm with you. Making the Nolah original a less heat sensitive mattress.
Learn more about the Nolah Original 10″ mattress in our review HERE! Or at NolahMattress.com.
The Nolah signature will also feature this patented foam along with a layer of High-Resilience Foam on the softer side. And just the Cooling Nolah AirFoam on the firmer side. Giving the firm side the preference if sleeping cool is a must. Unfortunately with any softer mattress the more you sink in the more body heat is trapped and less air flows. Making the softer side less ideal for warmer sleepers. The top layer of foam certainly helps neutralize this, but the soft side will still be warmer than utilizing the firmer side.
Learn more about the Nolah Signature 12″ mattress in our review HERE! Or at NolahMattress.com.
Nolah Original vs Nolah Signature – Edge Support:
When it comes to edge support there are two areas to focus on. How the bed performs from a sleeping standpoint as well as a sitting standpoint. This not only gives you an idea of how comfortable you will sleep in it but also a good look at the quality of materials and durability.
The Nolah original as well as the Nolah Signature will have good edge support overall. Focusing mostly on the sleeping surface and how well it can be utilized. Both beds will allow you to fully use each surface. giving you a consistent feel regardless of whether you are in the middle or all the way up to the edge. The dense and durable foams provide a flat and even surface that feels sufficient around the perimeter.
Sitting on the edge of a mattress is never recommended, since this isn't its intent. However, minimal sitting on the edge of both beds should be okay. Neither will offer the dense and solid sitting edge support you will find in a hybrid or spring mattress. Or any mattress with reinforced or encased edges for that matter. But, for what both Nolah mattresses offer you will find enough support around the edges to fully utilize each mattress.
Nolah Original vs Nolah Signature – Value:
Though value and price go hand in hand, value measures what you are getting for that price. Where as price is just a number. Making sure that you find the best mattress for the best price is what anyone should be looking for. The Nolah original and the Nolah Signature both offer a great value for each mattress.
The Nolah original features technology driven foams for ideal feel and support. All while sticking to a very affordable $1019 price point for the queen size. This even includes free shipping. As well as the 120 night trial period and lifetime warranty. This isn't even including their latest $125 coupon that makes the mattress ONLY $894! A steal of a deal for a bed with these types of qualities and materials.
$125-$300 Nolah Mattress Coupons
The Nolah Signature also features many benefits including a two-sided build with comfort choices that you can switch between. It also comes in at an affordable $1569 for a queen size along with free shipping. And lets not forget the 120 night sleep trial as well as lifetime warranty. This mattress is currently offering a $300 coupon too. Bringing the price to a VERY AFFORDABLE $1269! Almost like getting two mattresses for the price of one.
$125-$300 Nolah Mattress Coupons
Nolah Original vs Nolah Signature – Customer Service:
Regardless of which Nolah mattress you purchase, the same expertly handled process will be in place. Fro the time you order to any questions you have along the way, Nolah will be there to help. Ensuring you not only love your bed but even offering 120 night sleep trial period.
This allows for you to test out the mattress thoroughly before making up your mind. One thing to always remember with any new mattress is allow yourself and body time to adjust. Giving the bed at least 30 days before deciding if its a good fit is always recommended. If at that time you are not enjoying it, no problem! Nolah offers hassle free returns with a full refund.
And, for the lifetime of your bed you will also have a warranty that covers any manufacturing flaws or defects. Clearly this will be prorated to coincide with the natural wear and tear of your mattress. But, anything out of the norm of optimal performance will be covered in the Limited Lifetime warranty. Making this mattress along with this company a great choice.
Nolah Wildlife Conservation: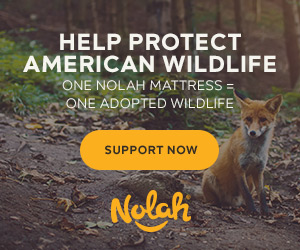 One very special thing that sets Nolah apart is it's involvement with the organization the Defenders of Wildlife. Regardless of the Nolah mattress you choose, you to get to save an animal in the process! Nolah's partnership with the Defenders of Wildlife makes this possible. Creating great community involvement that gives back.
Each mattress sold will allow you to choose an animal to adopt in the process. Meaning that a portion of each mattress sale goes to this organization on your behalf. This allows you to contribute with nothing more than getting a good night sleep in the process. Learn more at Nolahmattress.com.
There's More!
For more comparisons reviews beyond the Nolah Original vs Nolah Signature mattresses make sure you check out our Mattress Comparison Page. This will give you access to all our comparison reviews. Including some of our most popular including the Puffy vs Purple, Casper vs Tuft & Needle, Casper vs Purple and Puffy vs Puffy Lux.
Or to make your own comparison selections use our Mattress Comparison Tool  for a quick side by side glance at up to four of any of our mattresses at once. This is a great way to help narrow down your top contenders and see the differences of each.
Not sure where to start? No problem! Let us help you start your mattress search with Our Mattress Guide to take out any confusion. Also access all of our latest and greatest Mattress Reviews too!
Also have question for Our Sleep Guide? We are happy to help, so please feel free to contact us!